"I am delighted to have received a personal message of support from His Honour, Mayor Duke the Dog of Cormorant, Minnesota," Ottawa Mayoralty Candidate Darrell Duck told supporters and media representatives in a statement this morning.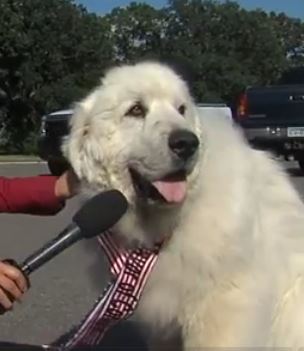 Mayor Duke the Dog interviewed post victory on August 14, 2014,
by WDAY News, outside his home in Cormorant, MN.
"Mr. Dog and I represent a new breed in municipal politics – candidates who are uniquely able to understand and properly represent all the constituents of our great cities," Duck asserted, underlining his record as an advocate for minorities.
"As unofficial Councilor for Dow's Lake, I have made it my duty to speak up for all the oppressed little (non-)people whose voices would otherwise not be heard at City Hall," Duck declares. "Sure, I'll stand up for humans and other minorities, too. But they won't see any undue favouritism from me!"
Candidate Duck lauds the forward-thinking broadmindedness of Cormorant, MN, voters in electing his comrade, Mr. Dog.
"In the intrepid spirit of the popular tidal wave that elected former professional wrestler Jesse Ventura Governor of Minnesota in 1998, voters in Cormorant have demonstrated unparalleled wisdom and courage – not to mention a terrific sense of humour – in supporting Mr. Dog two-to-one over his nearest and only opponent," Duck exulted in an impromptu address at his Dow's Lake Campaign Headquarters, adding that he hopes Ottawa electors will follow in the footsteps of their American cousins on October 27!
-30-