As Chico Marx famously asked his brother Groucho in The Cocoanuts (1929), "Why a duck?"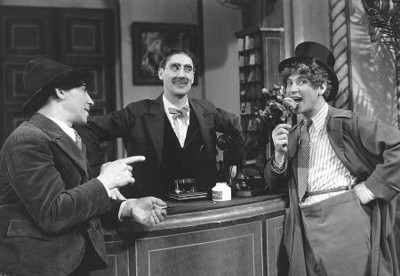 "Why a Duck?"
We say, "Why not?"
Many Ottawans we've talked to say even a deranged marshland creature with a brain the size of your thumbnail could do a better job of running the City than some of the current Members of Council.
"Our current mayor, while universally popular, will forever be burdened with the annoying reputation for being a keener." Duck charges. "'He'll show up for the opening of an envelope!' goes the all-too-familiar gibe. How can we take someone like that seriously?"
Darrel Duck is someone you can take at face value – someone generations of Ottawans have welcomed into their cinemas and homes since his 1937 début in the Warner Bros. classic short feature, Porky's Duck Hunt. Critics and industry figures raved about his performance then, calling him, "something new to moviegoers: an assertive, completely unrestrained, combative protagonist."
And he hasn't changed one bit. Advancing years haven't slowed him down nor dulled his legendary wit.
"I'm still running at a steady 24 frames per second and everything remains in sharp focus. I have all my marbles – although the bag I carry them around in has become a little frayed," Duck confidently asserts.
Darrel Duck stands for fiscal responsibility.
Darrel Duck stands for clear thinking and creative solutions to our city's problems.
Darrel Duck stands for local business and industry, as long as they don't dump anything disgusting into the water.
Darrel Duck stands for… A whole lot of nifty things. Visit duckformayorottawa.com frequently throughout the campaign for new position statements by the candidate on all the major issues.
HEY, You!
Got an issue you'd like Duck to address? E-mail: info@duckformayorottawa.com today!