Sheldon Darrel "Daffy" Duck came into the world at his parents' Dow's Lake love nest on March 27, 1921. As a teen newcomer, he first appeared in a number of Hollywood comedy short subjects featuring Warner Bros. mega-star Porky Pig.
Porky's Duck Hunt (1937)
During the Second World War, Daffy Duck racked up an impressive service record, appearing in such patriotic features as Draftee Daffy, Scrap Happy Daffy and Daffy The Commando before serving proudly as the official mascot of the USAAF 600th Bombardment Sqn. based in England from January, 1944 to the end of the War.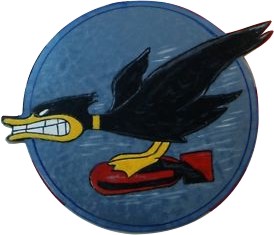 Official shoulder patch of 600th Bombardment Sqn.
Post War, Duck co-starred in countless animated features with Pig as well as Yosemite Sam, Elmer Fudd and the legendary Bugs Bunny, all of whom became lifelong friends, forming the elite Hollywood 'Toon Pack' fraternity. Their escapades culminated in the 1959 laugh-riot caper-toon Daffy's Eleven, remade in live-action shortly after by an opportunistic Frank Sinatra, under a slightly different title.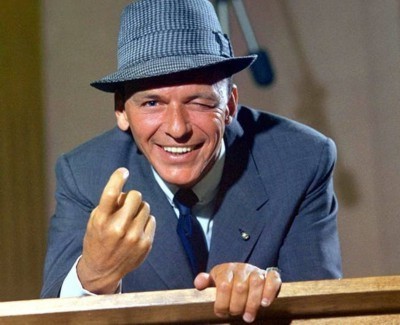 Frank Sinatra – Opportunist
As a three-term President of the American Federation of Animated Actors (AFAA) in the late 1940s and early 1950s, Duck fought courageously against the smear tactics of Sen. Joe McCarthy's House Un-American Activities Committee. As a result of Duck's heroic resistance to McCarthy's allegations of commie penetration in Hollywood, not one single animated actor was blacklisted.
In later years, Duck lead a migratory existence, splitting his time between Hollywood and Ottawa, getting back in touch with our community and, over the years, making himself as much of a familiar fixture on the Rideau Waterways as the Royal Swans.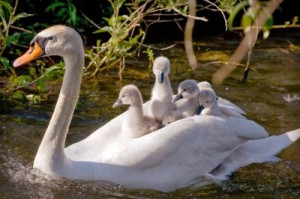 Royal Swans: Almost as popular as Duck and almost as cute!
Duck officially retired from show business in 1989 citing changing audience tastes and social standards for his momentous decision.
"It was the Political Correctness movement that did me in," Duck laments. "They somehow convinced the world that folks should be ashamed to admit they see humour in gratuitous violence and the whacky antics of an out-of-control, zany, selfish, neurotic, spotlight-hungry average Joe."
Following retirement, Duck threw himself into community service and for the past two and a half decades has worked tirelessly to ingratiate himself with wildlife of every species across the City.
"As unofficial Councilor for Dow's Lake, I have made it my duty to speak up for all the oppressed little (non-)people whose voices would otherwise not be heard at City Hall," Duck declares. "Sure, I'll stand up for humans and other minorities, too. But they won't see any undue favouritism from me!"
Summing up his commitment to serve in the City's highest office Duck proclaims, with characteristic humility, "I'm just a little Black Duck, sittin' on the water; a little Black Duck doin' what he otter!"