Flocks of Duck supporters awoke this morning to the realization that their candidate for Mayor of Ottawa had his goose cooked before things even started to heat up at the Municipal Election polls yesterday.
"I couldn't believe it!" Duck erupted, in an out-of-control rant outside his neighbourhood polling place yesterday morning. "I arrived at the poll to cast my votes for Mayor and Council only to find my name was neither on the voter's list nor on the ballot!"
Elections Ottawa issued a statement to the effect that, if Duck had actually wanted to run officially, he should have filed papers like all the other candidates for City Council and School Board positions.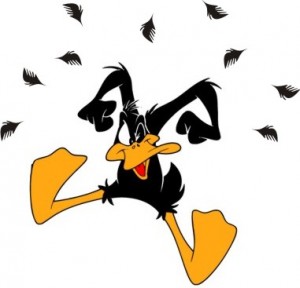 Duck explodes in a uncontrollable stress moult.
"It's dethpicable!" Duck thundered, convulsing in a severe stress molt, feathers flying in every direction. No bystanders were injured.
"I am reliably advised, by a little bird within the City's election machine, that many write-in votes for me were officially ruled 'spoiled' and not counted," Duck charged. "This is the biggest, most outrageous instance of fraud at the polls since some guy named Chad hung up on the Democrats in Florida in 2000!"
Duck departed early this morning, by air, for an indefinite stay at the Palm Springs estate of his longtime friend, fellow retired animation star Elmer Fudd, to recuperate in restful seclusion from the shock of this completely unexpected, devastating loss.
-30-