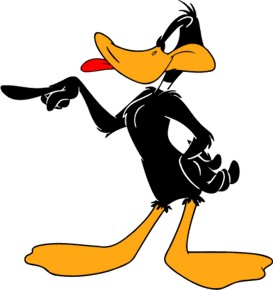 It is often said that Ottawa, both as a cultural and a corporate entity, has no sense of humour. We take ourselves too seriously. Our over- arching sense of sombre reserve is known far and wide. We will never be crowned Canada's 'Fun City', no matter how rich and diverse our store may be in arts and entertainment treasures.
It has become abundantly clear to the team of under-utilized writers and artists, idle comic talents and superannuated newsies behind the Duck for Mayor 2014! Campaign that the old, grey stereotype is a sad reality. Ottawa Media People and Politicians have no sense of humour. At least when it comes to peeking in the Fun House Mirror.
Duck for Mayor 2014! attempted to display this fall's Ottawa municipal election campaign in the exaggerating, sometimes distorting, often dark mirror of Satire. Nobody got the joke. Or, more likely, they took one look and didn't like what they saw. Only one intrepid reporter deigned to approach his dour old editor with a brief item about the DFM2014! website. Many thanks, Citizen scribe Norm Provencher!
We smeared no one. We even expressed grudging admiration for incumbent Jim Watson. We showed no mercy, however, where we thought City policies or certain campaign issues needed sending up.
Alexander Pope, Jonathan Swift, Oscar Wilde, George Orwell or Evelyn Waugh we ain't. But we believed, and still do believe, that we are very good at what we do. And we proved, beyond a shadow of a doubt, that Ottawa really does have no sense of humour.
At least we at DFM2014! now know why we're all unemployed.
If you disagree with our diagnosis, comment to this post!
Come on! We Double-Duck-Dare yah!
'Pebbles Flintstone-Rubble'
Communications Director
Duck for Mayor 2014!
-30-