"Why do we run empty buses on the Transitway all night long?" asked an overwhelming number of residents who live along or near the City's dedicated bus routes, when quizzed by Mayoralty Candidate Darrell Duck on what their biggest Campaign issue was.
"We do? Sufferin' Succotash!" replied Duck, in shock and dismay.
The buses, they go round and round
Empty buses cruise up and down
Prisoners on the carousel of waste!
- Sung to the tune of 'The Circle Game', by Joni Mitchell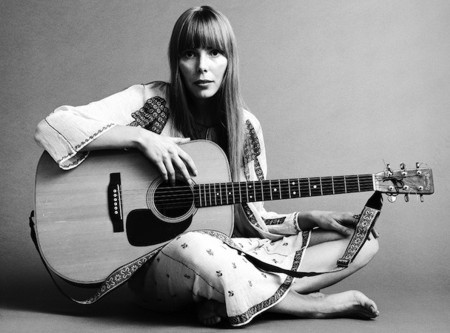 Joni Mitchell – as she was when Duck first met her…
"I read, on the Web, that Ottawa's cost per hour to run buses on our transit system is the highest in the known world," Darrel Duck states. "Why are we running empty buses all night, every night, up and down the Transitway when OC Transpo says it's looking for ways to save on operating costs?"
An Ottawa Citizen article in 2012 stated that, at that time, the City was paying $218 per hour to keep each of Transpo's buses on the road.  Given that buses run every half hour up and down the Transitway between midnight and 5 a.m., and because the trip from Fallowfield to Orleans takes a good two hours, that's 8 buses altogether, in constant rotation, or $1,744 per hour, times 5 hours a night, times 364 days a year, which equals a potential $3,174,o8o annual operations budget saving for Transpo.
"Even in Toronto, 'The City That Almost Never Sleeps', City Transit (buses, subways/ light rail and streetcars) run only from 6 a.m. to about 1 a.m. on the busiest days of the week," Duck observes. "Why are we paying over $3 million a year for something we don't need – providing a service that is not being used?"
Sources within Transpo who declined to be named warned that Duck's proposal to cut back on bus service during times when nobody is riding would seriously threaten the driver and mechanic employment levels guaranteed in the transit unions' contracts, not to mention making less available hours for the 'compulsory overtime' which is also entrenched in current driver contracts, designed to ensure that the median wage and benefit package for bus drivers in Ottawa remains at or above the current $70+ thousand per year.
"It's enough to drive a duck to drink!" Duck exclaimed.
-30-