Q: What is your take on the Light Rail Transit plan?
A: Bad idea. If one train breaks down, they have to send many buses to ferry people around the track blockage. This is time-consuming, expensive and disruptive to passengers' schedules and road traffic. Why not just use buses alone in the first place?
Ottawa doesn't need light rail. Really big cities like Toronto need it to avoid gridlock on their roads. And who in Toronto would stand for a four-hour commute by car at the best of times both to and from the city from fast-growing GTA bedroom communities such as Kitchener, London and Kingston? By dramatic contrast, the usual twenty-minute run across Ottawa, from the Canadian Tire Centre to The Split, may grow to an hour during the morning or afternoon rush. But that's just peanuts compared to a really big city. Ottawa motorists are spoiled!
Lets face it: The Light Rail Transit program is merely a fantastic expression of the deeply felt need by some Council Members – current and former – to leave a legacy. A legacy of extravagance, I say!
But if we must have Rail, let's be fiscally responsible and collaborative in our policy! I'll spearhead a collaboration with the Museum of Science and Tech to get those old locomotives of theirs out of mothballs, scrape the mold off them and put them into service immediately on existing tracks. And there's a nice heritage angle to using the old lungers! In answer to one constituent's question about fuel storage: We'll pile the massive amounts of coal required to run these behemoths on Lebreton Flats. We're not using it for  anything at the moment and, the way things are going, we won't be developing it for several decades.
A creative alternative
We must think creatively when it comes to the future of transit in the Capital… Thousands of people glide effortlessly to work downtown along the Rideau Canal Skateway during the winter. In summer, a select, robust few walk, jog or cycle to work along Ottawa's world-famous network of multi-use pathways. It's healthy, non-polluting and low-cost, and makes the City appear to be acting responsibly even as it continues to deepen its gaudy grope into the private affairs of its citizens.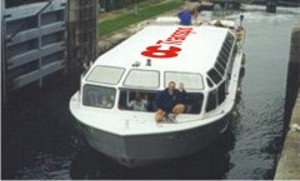 Why not provide commuter boat service in summer, like they used to have in Venice, Italy, when people actually lived there, before it became a theme park for tourists? The NCC and the Rideau Valley Conservation Authority have made it nearly impossible for tour boat operators to run on the canal, what with the escalating fees and labyrinthine regulations. We could give this flagging local industry new life by according every idle boat 'water bus' status and putting people back to work!
Kiss-and-Floats could be built relatively inexpensively at key points along the canal and rivers by paving over under-used parks, incorporating bus loops to interconnect with the existing suburban transit infrastructure – and there you go!
What of the legacies of all those pro-light rail politicians? Name a boat after 'em!
-30-